Against the picturesque backdrop of Vancouver's beautiful spring weather, the SONiC Mini Summit unfolded with excitement and enthusiasm earlier this month. The event brought together over 350 in-person and virtual attendees from 300 organizations, eager to engage in discussions about the advancement of SONiC and exchange innovative ideas to tackle today's and tomorrow's networking challenges. 
If you didn't attend—or if you did and want a replay—below is a snapshot of what you missed and what you may want to catch up on.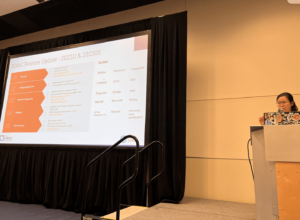 Spotlight on Network Innovation
A diverse range of topics were presented by community members during the event, each shedding light on the power and versatility of SONiC. From community progress updates provided by Arpit Joshipura and Xin Liu, to Tim Schue's exploration of real-world use cases and Adam Dunstan's discussion of choosing upstream or enterprise versions of SONiC, the presentations offered valuable insights into SONiC's capabilities and its impact on network innovation. 
Presentation recordings are now available on the SONiC YouTube channel!
SONiC Empowering Organizations
We had the opportunity to speak with several SONiC experts onsite who shared their experiences and expertise in SONiC. From SONiC users to TSC chair, these short interviews delve into the impact of SONiC on organizations and the industry as a whole. Watch the interviews below:
Join the SONiC Community Today
"…Just as Captain America unites individuals with different strengths and viewpoints, SONiC, through the Linux Foundation's open source approach, brings together contributors with diverse backgrounds and capabilities, working towards a common mission."

Lihua Yuan, SONiC Technical Steering Committee (TSC) chair and VP of Engineering at Microsoft
As stated by the community onsite in Vancouver, SONiC's success lies in its open nature, diverse developer community, and its ability to drive innovation, flexibility, and cost savings. Join the SONiC community today and be a part of the Open Networking 2.0 revolution, where networking is democratized, innovation is unleashed, and the possibilities are endless.